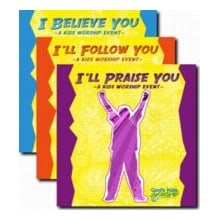 In my experience, it's hard to find good worship CD's for kids.  Rarely do I come across children's music that is both rich in biblical content and sounds good at the same time!  That's why I'm excited about this giveaway from God's Kids Worship.   They are eager to give away one copy of their "God's Kids Worship Modern CD 3-Pack."  Their music includes best-known worship songs plus brand new, made-for-kids songs that are sung by kids.  Every song is great for kids to sing along to whether it be in a church context or while riding along in the family minivan.  It's a good variety of upbeat, lively music as well as reflective hymns that the whole family will enjoy worshiping to.
I agree with Tony Kummer, children's ministry blogger, "When kids really enjoy a worship CD, that music becomes the default soundtrack for their daily lives. Their minds and hearts are filled with God-focus worship lyrics. This residual effect of music can be a powerful influence on a child's attitude. Kids worship songs can encourage love for God and Christian growth."
So, check out the music samples from their website and then leave me a comment below with your first impressions.  Did you like the sound of the music?  Can you picture kids in your family and your church family enjoying it? I will randomly draw 1 winner from the comments below on Tuesday, June 29, 2010. Comments may take a few hours to appear if this is your first time to leave a comment on my blog. I will only be able to ship to the US on this giveaway.